Financial Horse (2019)
REPs Invest Review: Resale Endowment Policies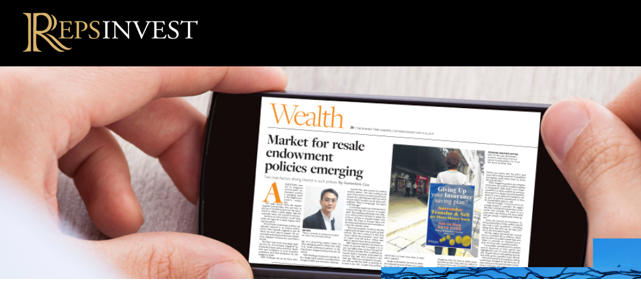 Disclaimer: This post is sponsored by REPs Invest, all opinions and views expressed in this article are courtesy of Financial Horse.
I've never really written about endowment plans on this site before. The way I see it, anyone buying an endowment plan will have access to a financial advisor who is better able to provide tailored financial advice than I can.
However, when REPs Invest reached out to me regarding their platform that offers "second hand", resale endowment policies (REPs) that offer higher yields, I was intrigued.
I do get a lot of feedback from FH readers that while they see the importance of investing, they don't have much time to research into stocks or more complex investments and are also risk averse. In this case, for someone who doesn't want to spend too much time, and is inclined toward a buy and forget it type of investment, endowment plans are worth considering.
Especially since the yield of SSBs have dropped over the past few months, many investors are looking for alternative investments where they can park their money for a reasonable return. In this case, a resale endowment policy seems to be an attractive choice.
Taken from their website: 
We are the largest service provider for local Resale Endowment Policies since 2010. We provide individuals and organisations with higher risk-adjusted returns through our wide range of policies.
With extensive experience in dealing with resale endowment policies, we have built a dedicated team of well-trained consultants over the years
Our growing pool of clientele includes savvy professionals, business owners, financial experts, fund managers, family offices and accredited investors.
Our Vision is to develop a robust secondary market for resale endowment which forms part of the financial services in Singapore.
So very simply, REPs Invest is a place where you can go to buy and sell your endowment policies. If you bought an endowment plan a while back and no longer want it, you can sell your policy to them for a higher price. If you are looking for an endowment plan with a higher return, you can visit their website and select a plan that is suitable for you.
Some other bloggers have also covered the basics of REPs Invest, so do check them out if you are keen.
https://heartlandboy.com/how-does-resale-endowment-policy-work/
https://investmentmoats.com/money/reps-holdings-resale-endowments-what-you-need-to-know/
Main Benefit – Higher Yield
So why go with a resale endowment policy instead of a brand new one from a Great Eastern, or Prudential?
The biggest advantage here, is the higher yield. As the previous owner of the policy has already paid the policy for a certain number of years, by taking over the policy you basically take on all that compounded returns, and fund it via a lump sum payment.
Budget Babe has a nice example that I will use as an illustration. Imagine that you wanted to buy a 15 year policy. If you get a brand new one from Prudential / Great Eastern etc, you can probably get it at 2.73% returns per annum compounded. If you put in about $3000 a year for 15 years, you're left with about $55,000 at the end, and a gain of $10,000.
On the other hand, imagine that you go through REPSInvest, and you manage to find a 25-year policy where the existing owner has already paid 10 years, and is looking to sell his policy for the remaining 15 years. By buying this policy, you need to pay a lump sum of $17,500 upfront ($1750 a year for 10 years), and $1750 a year for 15 years. But at the end, you are left with $72,960, which works out to compounded returns of 4.5%, and a gain of $30,000.
So because you are taking over an existing user's policy, it allows you to effectively enjoy the previous users' compounded gains by paying a higher lump sum upfront. It also allows you to enjoy certain policies that may be offered in the past but no longer offered today.
Flexibility of choice
What REPSInvest essentially offers is choice. It is a marketplace where you can find all types of endowment policies that can suit your needs. One of the major benefits is that instead of starting a new policy which can be 25-years long, you only need to continue the remaining tenure of a resale policy which can be as short as 3 years.
Effected via a legal assignment
The transfer of the policy is effected via absolute assignment, which is legally binding.
Caveats
Of course, there's also things to be mindful of when getting a resale endowment policy.
No Life Insurance
The first one, is the lack of life insurance. Because the policy that you are taking on was originally taken up in the previous life assured's name, the life insurance will be tied to his/her life. In other words, the life insurance only kicks in if the life assured passes away. That life insurance portion cannot be "transferred" to take effect upon your passing away instead.
Long story short, there is no life insurance component for you, but you're getting a higher yield in return.
No Tailored Policy
For resale endowment policies, you're basically taking over what the previous guy bought. So you may not always be able to find the exact policy that suits your needs, and it may take some waiting and hunting around. Explore the full list of policies here:  https://www.repsinvest.com.sg/reps-list-2/
Other advantages of Resale Endowment Policies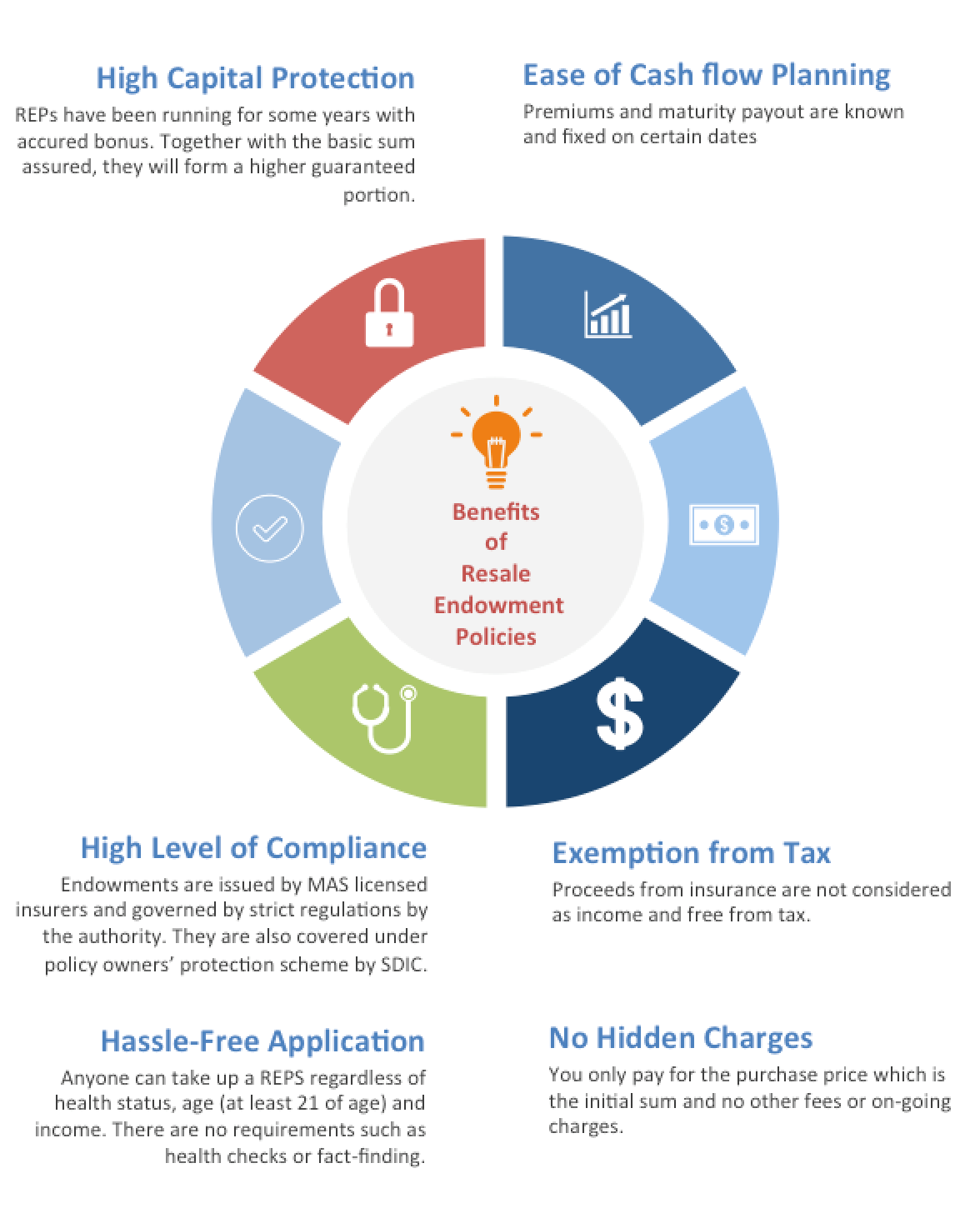 Who may find resale endowment plans useful?
The way I see it, resale endowment plans are useful for investors who want to achieve higher yields than traditional endowment plans, and prefer not to invest directly in the markets themselves.
There's potentially 3 groups of people who fall into this category:
(1) Older Investors – Older investors generally want something with little to no risk, but as high returns as possible. With the 10-year SSB now offering only about 1.74%, buying a resale endowment plan from 10 or 20 years ago, that invests only in low risk products, is a good way to get a much higher yield than offered on the market.
(2) Sandwich Generation – The sandwich generation is the hottest thing in town these days following the video by NTUC Income. If you're a sandwich generation, this is a good way of getting a policy to juice up your returns. Since the platform offers great flexibility of choice, there is also the option to consider shorter duration policies that can suit your needs.
(3) Middle aged investors who want to diversify – Investors who already have a balanced portfolio allocation, but want to use resale endowment plans as a way to diversify their portfolio exposure. As long as you put in some effort, you can definitely find a policy with the right timeframe, underlying investments, and risk-reward to suit your needs.
Closing Thoughts: Worth Considering?
REPSInvest certainly puts an interesting spin on the world of endowment policies. Much like a second hand store, there is now potential for an enterprising investor to trawl through policies and find one that suits his needs, and which is superior than what is being offered on the market.
If you're in the market for an endowment policy, or want to explore alternative investment options, it is definitely worth checking out the policies on offer: https://www.repsinvest.com.sg/reps-list-2/
Credits:
https://financialhorse.com/reps-invest-review/