ABOUT US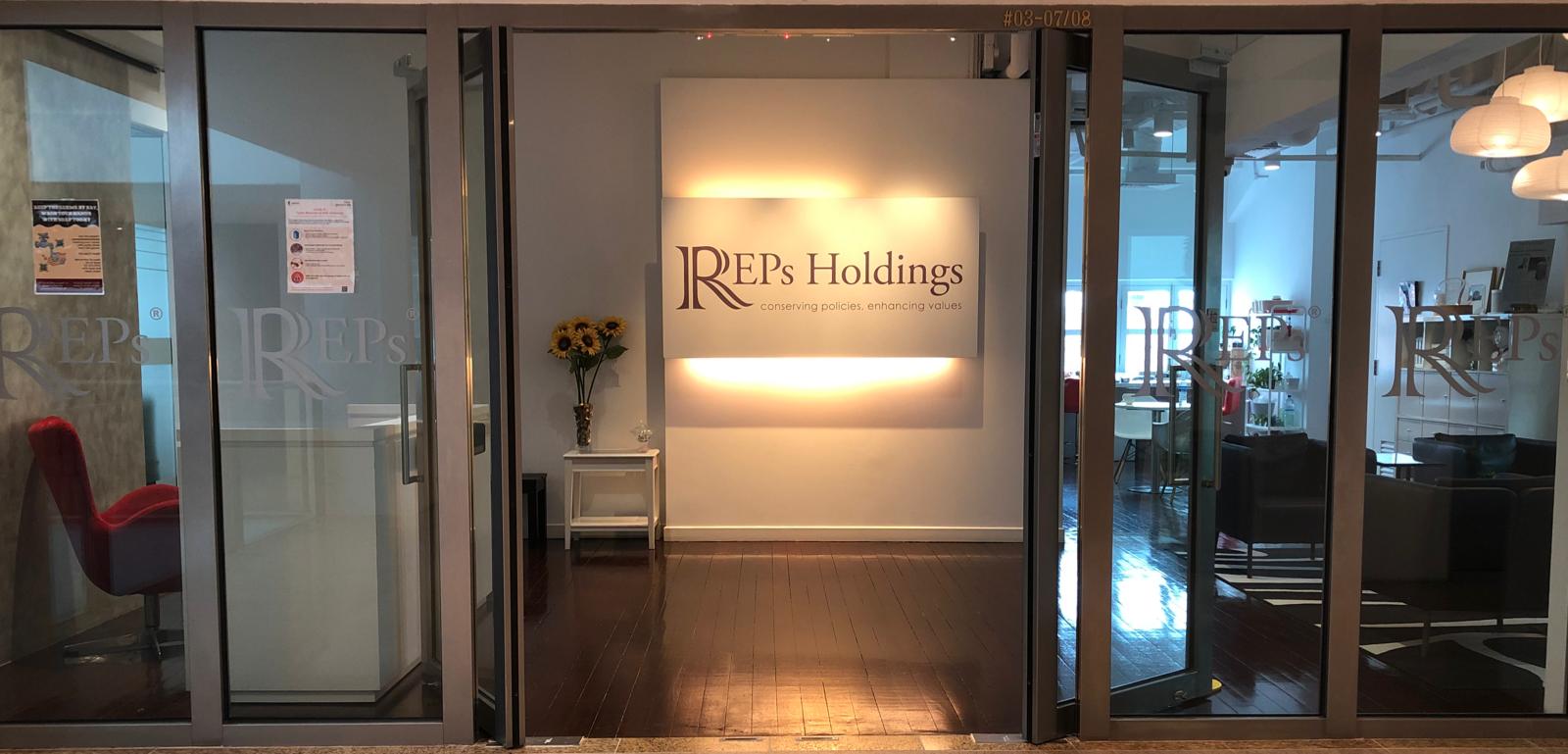 ABOUT US
REPs Invest (REPs Holdings Pte Ltd) is the largest service provider for Traded / Resale Endowment Policies since 2010.
We provide individuals and organizations with higher risk-adjusted returns through our wide range of policies. With extensive experience in dealing with resale endowment policies, we have built a dedicated team of well-trained consultants over the years. Our growing pool of clientele includes savvy professionals, business owners, financial experts, fund managers, family offices, and accredited investors.
Why Choose Us
First In The Industry
Customer-Centric Approach

Transparency and Peace Of Mind
Professional and Experienced
Testimonials
Ng Pei Xuan Chantalle
Always my number 1 company to purchase resale policies from. A company of professional and friendly team. Special thanks to staff: Darren Tan who had been helping me to look out for policies for the past 3 years. He is meticulous, efficient and an asset to Reps. Thank you and I truly appreciate all your help!
Michele Chen
It's simply a great investment alternative! And thank you to REPs, for 1. The rigorous screening, quality control, and due diligence for each policy bought in by them. 2: The deep industry experience, they understand the historical bonus declaration profile of each insurer; maturity profiles of each resale policy type 3: They were very patient to explain how the resale market works and the protections afforded to the secondary market buyer. Overall these resale endowments are a replacement for traditional bonds or equities, offering the stability of investment returns and significant capital protection. (Extracted from Facebook, 05 August 2020)
Gavin Goh
Very knowledgeable and trustworthy company with staffs who patiently answer all my queries and doubts. The process to transfer the plan is faster than I anticipated as well.
Cindy Ong
Bumped across this when googling for saving plans for higher returns. Was pleasantly surprised with the staff's responsiveness and patience throughout the chat and follow-up sharing. After much consideration, took a leap of faith to buy a RP plan and glad all went well so far. Will consider buying more since bank interest rates are getting quite pathetic now.
Goh Lee Cheng
I was sourcing for alternative investment as interest rate for bank and short term endowment are getting lower. I came to know about traded endowment. After knowing my investment goal, REPs recommended me plans based on my preference.
Marcus Yan
I first got to know Resale Endowment in 2016. From there, I had taken over 5 policies to support my children's education needs and my own retirement. I like the part where there's no monitoring required. I can safely grow my money while I focus on the other areas of my life, my work, and my family. I will continue to collect more policies when I have spare funds. I believe Resale Endowment is useful for people at different phases of their lives.
Edmund Chew
I've always been on the lookout for any reliable alternative source of investment. I started to invest in resale Endowment policies recommended by REPs Invest about 3 years ago. I have bought a few policies and have also recommended my friends. We are extremely pleased with REPs Invest for their reliable services.
Simon Lim
I got to know about resale endowment plan back in 2017 and I have brought a couple of plans coming to 300k. Their staff is knowledgeable, efficient, and helpful. At the same time I will also strongly recommend REPS Invest for an alternative investment to add on to your retirement portfolio.